TagPal Clothing Labels

$11.95

(package of 40 labels)
561 reviews
Dryer safe
Laundry safe
Personalized
Waterproof
Preview
PRODUCT DESCRIPTION:
Unique, colorful designs make InchBug's TagPal Clothing Labels a fun solution for labeling your child's belongings.
TagPals are easy to use – just peel-and-stick to the care tag on your shirt, jacket, or favorite stuffed animal.
The super strong adhesive backing keeps the label in place, even in the washer and dryer, so your items end up with you, not in the lost and found.
Each set of TagPal Clothing Labels contains a total of 40 assorted labels.
With 16 icon sets to choose from, you're sure to find something for each child's unique interests.
Make sure to cross your t's and dot your i's -- your personalization is printed exactly as it is entered at the time of purchase.
FEATURES INCLUDE:
Label Dimensions: 3/4" x 13/16"
Package contains: 40 labels
Machine-washable and dryer-safe.
Peel-and-stick to clothing care tag only -- no iron necessary!
TagPals should not be applied directly to the garment or any other items.
InchBug® does not recommend writing on any of the custom labels.
Not for use on pacifiers, teething or feeding accessories.
Personalization is limited to 12 characters per line
AVAILABILITY:
Please allow up to 5-7 business days for processing of personalized products.
Customer Reviews
Write a Review
Ask a Question
Filter Reviews:
labels
tags
clothes
daycare
school
quality
clothing labels
stickers
washes
ones
09/29/2020
Asheley H.
United States
Tag Pal clothing labels
I became an inchbug customer when my youngest was born over two years ago when I needed a way to identify and label her items at daycare. Believe me when I say I went all the way overboard and bought everything the site had to offer. From Orbit Labels in every color to various styles of the adhesive they didn't disappoint. There was never once an issue, actually I found myself buying more anytime there was a sale or I came across a promo code. I figured, they were great products and you just couldn't have enough, I also referred several parents as well as teachers to the site. Fast forward to now and I again decided to order some more clothing labels and after opening the shipping envelope I noticed immediately that something was definitely different from what I had become used to receiving. The stickers were very flimsy and thin and once I was able to separate from the paper, it began to curl up and stick to itself. I gave benefit of the doubt and tried another and same thing happened. I noticed they don't feel as secure as the previous ones once you place on the clothing label. Disappointed, Please bring back the original labels.
09/28/2020
Sara S.
United States
Review of clothing tags
Some tags do not peel off easily/paper back doesn't come off easily. Not as good quality as the ones I got a few years ago.
09/23/2020
Sandra K.
United States
Great concept
They look really great, working great so far. Only disappointment is that I ordered the same item a year ago, and the thickness of the sticker has changed. They are now thinner and it made it difficult to remove from the film and reapply on the things I labeled. The sticker kept wrinkling and I'd have to mess with it to fix it. Hopefully these hold up as well as the others over time
09/22/2020
Krista F.
United States
Perfect for little masks
I ordered the TagPal Clothing Labels for my daughter's masks for school. I bought 2 packs of masks from a large retailer and 1 had tags and 1 didn't so the tagged masks are now labeled for school, the others are for the weekend. So far after a few washes the labels are holding up well. One has some discoloring but it seems to still be sticking fine.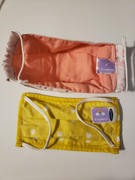 09/17/2020
Danielle B.
United States
Amazing products! Amazing customer service!
I placed an order and a package came in the mail, somehow had been ripped open in transit, with no products in the package. I called customer service & they took care of it. I received the products shortly after! Best company and the products are top notch! Highly recommend!